Using The New Date Picker In Excel 2010
---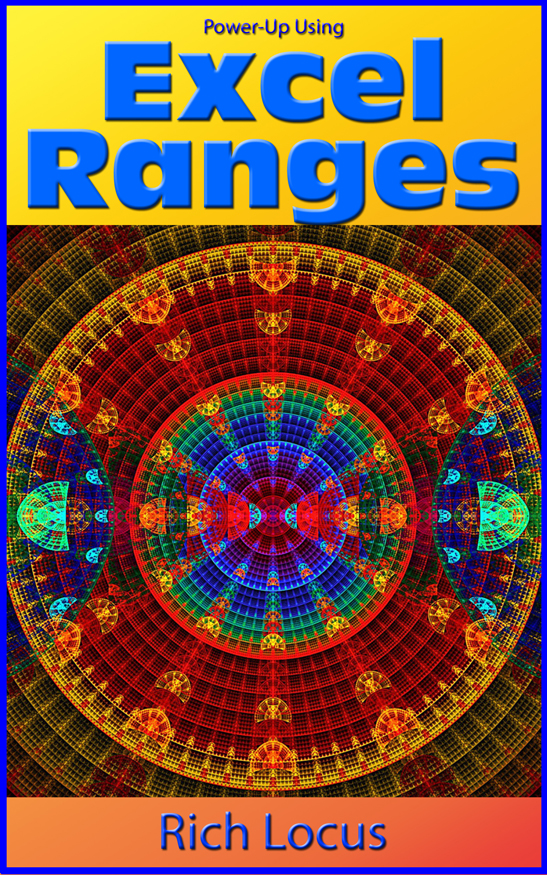 Learn some of the secrets to great Excel VBA programming!!
---
Note: The process below will only work for Office 2010 32-bit (not Office 2010 64-bit).
Important: Microsoft strongly recommends the use of 32-bit (x86) versions of Office 2010, Project 2010, Visio 2010, and SharePoint Designer 2010 applications as the default option for all platforms.
Learn more about the deployment considerations for x64 and x86 at this TechNet location:
http://technet.microsoft.com/en-us/library/ee681792(office.14).aspx
Microsoft discontinued the legacy 32-bit calendar control, MSCAL.OCX, in Excel 2010 and replaced it with the new 32-bit Date Picker contained in Active-X library member mscomct2.ocx.
Date Picker Alternatives For 64-Bit Office: Several "private" solutions have been posted on varoius forms. These are not official Microsoft solutions, but users of the 64-bit systems said they worked:
http://xltools.net/excel-popup-calendar/
https://jumpshare.com/b/O5FC6LaBQ6U3UPXjOmX2
If you want to stay with Microsoft offerings and you are running Office 32 bit, then keep reading the article below.
Important Note: The Active-X Date Picker can be registered for Office 2010 32-bit, but it will not work on Office 2010-64-bit. Developers who use the Date Picker are advised to stay with the 32-bit version of Office 2010. There is no official replacement for the much-loved date picker in the 64-bit version of Office 2010, as shown in the following article and forum post by Microsoft:
Date Picker Active-X Control Only Works On 32-Bit Office 2010
No Formal Date Picker For Office 2010-64bit As Of July 2012
If you are using Office 2010 32-bit, then the following procedures will work.
If the date picker library is not already registered, then :
FOR 64-BIT WINDOWS 7, HERE'S HOW:
(1) Perform the function below on any computer that is missing the mscomct2.ocx.
(2) Make sure a copy is in C:\Windows\SysWoW64
(3) Click the Windows 7 Start Button and in the Search area, type "command"
(4) The search will bring up a number of items, including "Command Prompt" at the top
(5) Right click the "Command Prompt" banner, and select "Run as Administrator"
(6) At the command prompt, enter: %systemroot%\SysWoW64\regsvr32.exe mscomct2.ocx
(7) This should successfully register the control.

FOR 32 BIT WINDOWS 7, HERE'S HOW:
(1) Perform the function below on any computer that is missing the mscomct2.ocx
(2) Make sure a copy is in C:\Windows\System32
(3) Click the Windows 7 Start Button and in the Search area, type "command"
(4) The search will bring up a number of items, including "Command Prompt" at the top
(5) Right click the "Command Prompt" banner, and select "Run as Administrator"
(6) At the command prompt, enter: %systemroot%\System32\regsvr32.exe mscomct2.ocx
(7) This should successfully register your legacy mscomct2.ocx

Once The Control is registered, it can be added to the Control Toolbox available in the VBA area of Excel: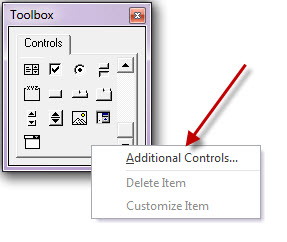 Select the date picker control from the list of available Active-X controls: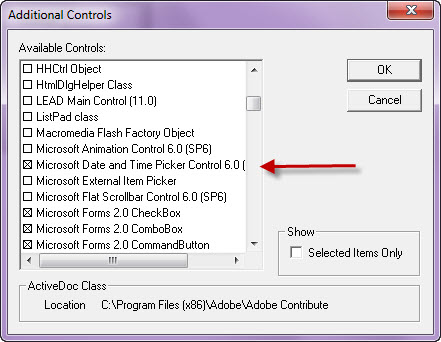 Once it is selected, it can be used from the toolbox: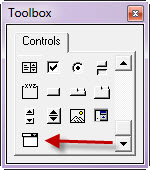 The control uses the "Change" event as shown below:
Program Code
Private Sub DtPicker1_Change()
' ********************************************************
' Update Date Based on Calendar Click
' ********************************************************
dteDateSelected = DTPicker1.Value

End Sub